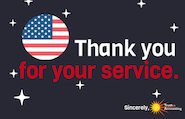 As a country, we owe a deep debt of gratitude to the men and women who have served in the United States Armed Forces.
Few Americans have served or are currently serving in the military. According to the Department of Veteran Affairs, there are about 20.8 million veterans in the U.S., and the most recent statistics from the Department of Defense show there were roughly 1.3 million active duty military personnel as of July 1. This means just 6.8 percent of all living Americans have served in the armed forces at some point in their lives.
Given that the vast majority of Americans don't know what it's like to be in uniform, it is especially important to honor and thank those veterans we know personally on this coming Veterans Day.
We should also not forget or gloss over the serious issues facing tens of thousands of veterans across the country, from homelessness to the alarming rate of suicides.
In 2014, an average of 20 veterans died by suicide each day, accounting for 18 percent of all suicide deaths among the adult population, according to a recent analysis of veteran suicides by the VA. The report also found the risk for suicide was 22 percent higher among veterans compared to civilian adult men.
VA Secretary Dr. David Shulkin called the report's findings "deeply concerning" in a press release accompanying the analysis.
"We know that of the 20 suicides a day that we reported last year, 14 are not under VA care," Shulkin said. "This is a national public health issue that requires a concerted, national approach."
Homelessness among veterans, however, appears to be on the decline in the majority of states, according to the U.S. Department of Housing and Urban Development. There were an estimated 39,471 sheltered and unsheltered homeless veterans in 2016, down 17.3 percent from 2015 when the estimated number of homeless veterans totaled 47,725.
More from the National Coalition for Homeless Veterans:
"Roughly 45 percent of all homeless veterans are African American or Hispanic, despite only accounting for 10.4 percent and 3.4 percent of the U.S. veteran population, respectively.

Homeless veterans are younger on average than the total veteran population. Approximately 9 percent are between the ages of 18 and 30, and 41 percent are between the ages of 31 and 50. Conversely, only 5 percent of all veterans are between the ages of 18 and 30, and less than 23 percent are between 31 and 50."
The following list of the 10 states with the highest number of veterans also gives the number of estimated homeless veterans, as well as veteran suicide deaths per 100,000 people in 2014.
1. California
Number of veterans: 1.62 million

Percentage of state population: 5.4 percent

Homeless veterans: 9,612

Change from 2015: -15 percent

Veteran suicides: 662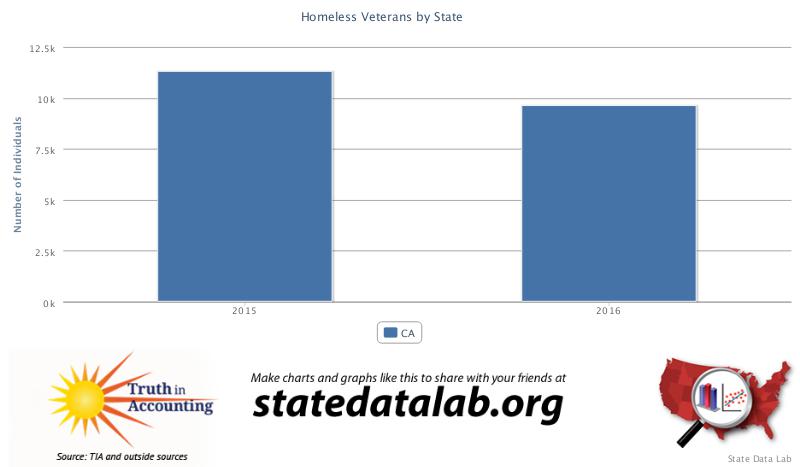 2. Texas
Number of veterans: 1.46 million

Percentage of state population: 7.1 percent

Total homeless veterans: 1,768

Change from 2015: -26.1 percent

Veteran suicides: 554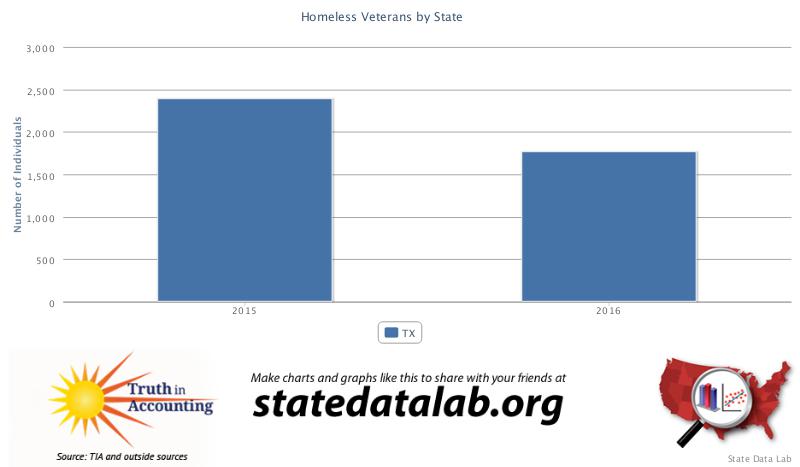 3. Florida
Number of veterans: 1.43 million

Percentage of state population: 8.7 percent

Total homeless veterans: 2,902

Change from 2015: -26.1 percent

Veteran suicides: 591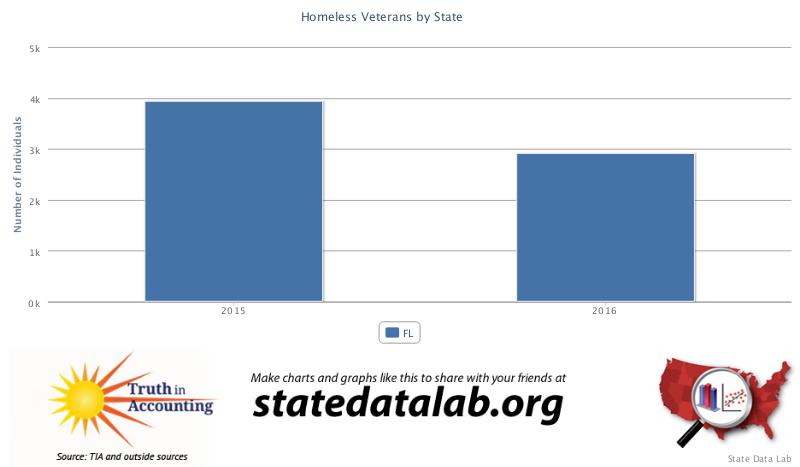 4. Pennsylvania
Number of veterans: 791,295

Percentage of state population: 7.8 percent

Total homeless veterans: 1,136

Change from 2015: -17.4 percent

Veteran suicides: 311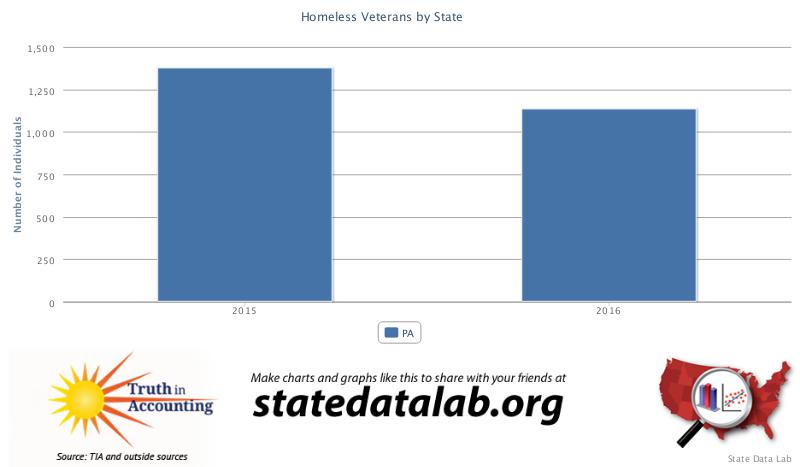 5. Ohio
Number of veterans: 729,520

Percentage of state population: 8.1 percent

Total homeless veterans: 930

Change from 2015: -21.4 percent

Veteran suicides: 244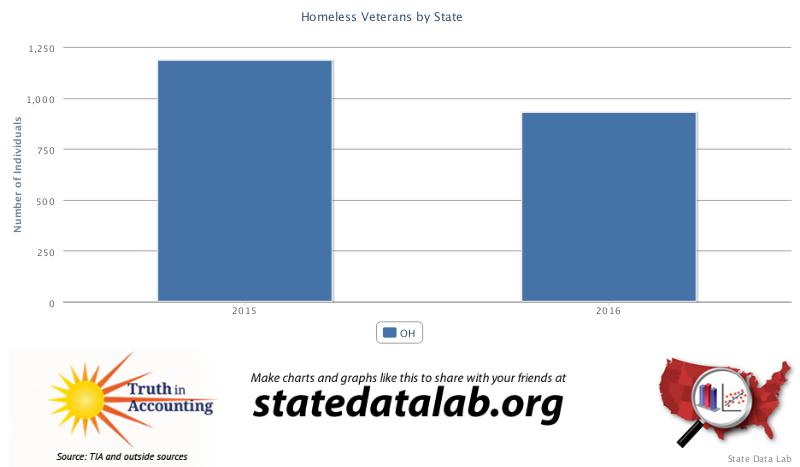 6. New York
Number of veterans: 723,582

Percentage of state population: 4.7 percent

Total homeless veterans: 1,248

Change from 2015: -48.0 percent

Veteran suicides: 225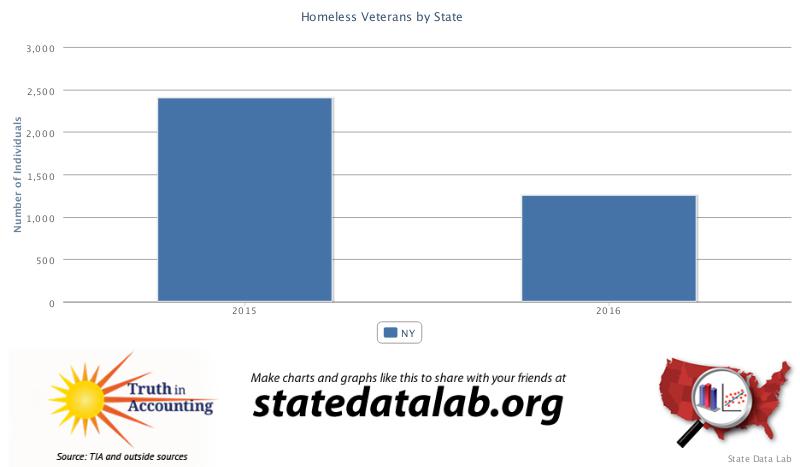 7. Virginia
Number of veterans: 671,080

Percentage of state population: 10.4 percent

Total homeless veterans: 515

Change from 2015: -14.7 percent

Veteran suicides: 227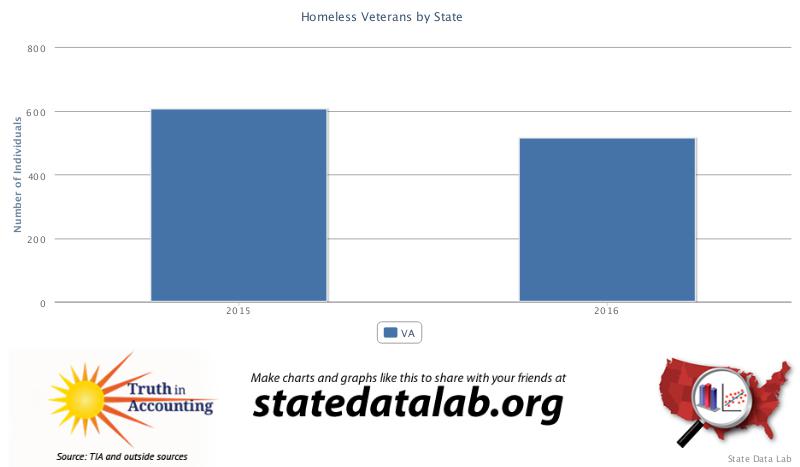 8. North Carolina
Number of veterans: 666,425

Percentage of state population: 8.6 percent

Total homeless veterans: 888

Change from 2015: -18.7 percent

Veteran suicides: 249
9. Georgia
Number of veterans: 643,660

Percentage of state population: 8.3 percent

Total homeless veterans: 1,055

Change from 2015: -31.8 percent

Veteran suicides: 200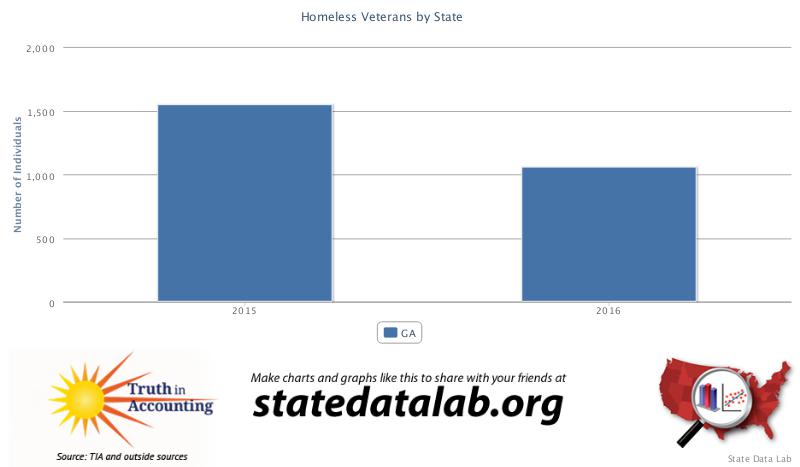 10. Illinois
Number of veterans: 583,994

Percentage of state population: 5.9 percent

Total homeless veterans: 949

Change from 2015: -22.6 percent

Veteran suicides: 193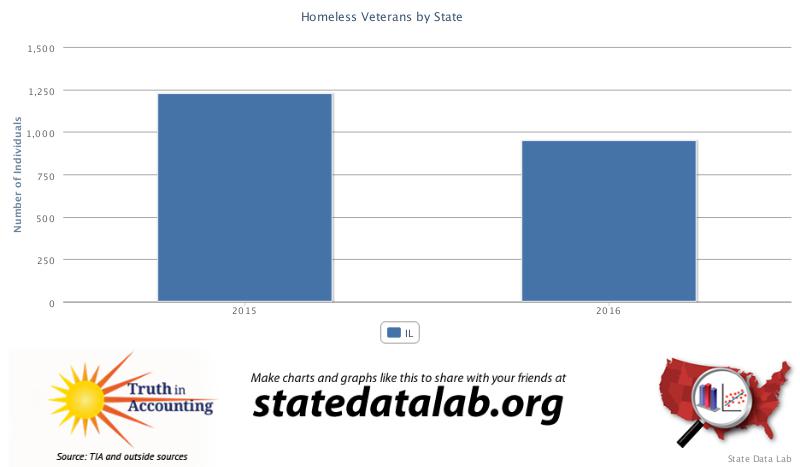 There are many charities that support veterans so you can help make a difference in the lives of the men and women who have served in our armed forces. Show your support by donating to one of these 10 great organizations:
comments powered by Disqus