Did you know you are effectively a shareholder in a massive insurance company? Did you know that this company insures insurance companies? And for losses from terrorism?
Our federal government runs a variety of insurance programs, and undertakes risk like an insurer does in a variety of indirect ways. In fact, Uncle Sam can be considered the largest insurance company in world history, with accounting challenges (and issues) to match.
One formal program was created in 2002. The Terrorism Risk Insurance Program (TRIP), in the United States Treasury Department, provides reinsurance for private insurance companies exposed to losses from acts of terrorism.
Like any federal program requiring funding, this program requires budget authority.
How much? How has that number been moving in recent years? What does it look like in the President's budget released earlier this week?
Last we looked (for 2017), the trend in budget authority looked a little scary.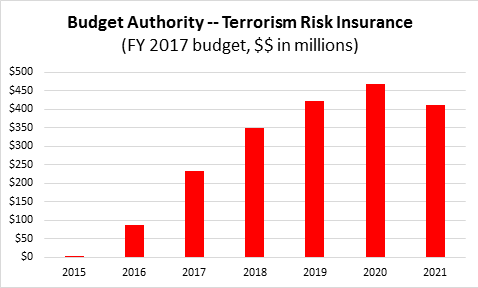 But the good news, seemingly, is a) we haven't had a significant terrorism loss event since that FY 2017 budget, and b) the amount of budget authority, while still anticipated to grow through FY 2020, has been decreasing in the last two years.
The chart below takes the last three fiscal years for which budget authority was established, and looks at past and future budget authority with the budget fiscal year centered on "Year 3."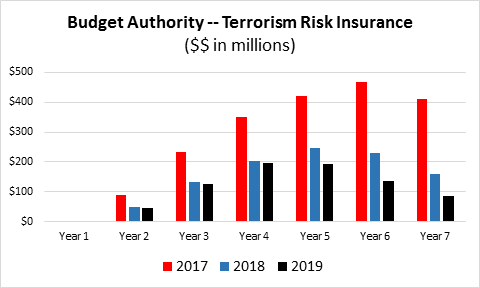 Budget authority has yet to be established for the President's FY 2020 proposed budget. That budget did disclose that the Treasury Department is working with state regulators and industry groups and evaluating reforms to the TRIP program, with a view to potentially extend the program beyond its current December 2020 expiration date.
comments powered by Disqus