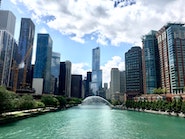 "CHICAGO (WLS) -- With the April 4 runoff election now less than a week away, we're taking a closer look at how the candidates for mayor differ on some key issues.
One that affects every person in Chicago is managing the city's finances and budget.
The country's third-largest city has a $28 billion budget to cover everything from police, fire, schools, parks, garbage pickup and snow removal -- and it's controlled by the mayor.
"I know how to manage multimillion-dollar budgets and the first order of business as mayor is to go in and look at those budgets holistically," said mayoral candidate Paul Vallas.
As Mayor Richard M. Daley's former budget director and CEO of Chicago Public schools, Vallas said his expertise is finding savings and efficiencies. However, some experts say Vallas may have a tough time.
"Mayor Lori Lightfoot and her economic team did a really good job of squeezing waste out of city government, there is not a lot more to be saved," said David Greising, the Better Government Association president.
Vallas' plan also includes creating a budget watchdog committee to reprioritize how the city spends its money. He said property tax revenue dedicated to Tax Increment Finance Districts, known as TIFFs, should be freed up for other purposes.
"You're diverting about $1.1 billion in property tax revenues to projects for which there is little oversight and that program is producing hundreds of millions of dollars of surpluses a year," Vallas said.
Vallas and his opponent, Brandon Johnson, do not intend to raise property taxes, but Johnson said his plan does include several other tax hikes to increase revenue.
"I don't know if there is any other mayoral candidate in history of Chicago that has been willing to put up a balanced budget plan before they are elected," Johnson said.
In his $800 billion tax plan, Johnson proposes bringing back the city head tax, where large corporations who do most of their work in the city will pay a 1-4 dollar tax for each employee. Johnson also pitches increasing the hotel tax, jet fuel tax, a tax on securities trading and increasing the transfer tax on property sold for more than a million dollars.
"All of that gives us the opportunity to eliminate the structure deficit, make critical investments without raising property taxes," Johnson said.
Johnson insists a city income tax is not part of his plan, while Vallas said the budget can be balanced from within and Johnson said it can only be done with new revenue.
The non-partisan group Truth in Accounting said it will take much more than what the candidates are proposing to solve the city's economic problems.
"We've determined that the city owes $38 billion of debt and that is increasing every year," said Shelia Weinberg, founder and CEO Truth in Accounting.
The other big challenge for the next mayor is funding the city's over $2.5 billion pension payment every year. Vallas and Johnson said they are committed to paying the bill, even during bad economic times."
comments powered by Disqus