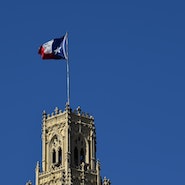 "The City of Dallas is a financial "Sinkhole City," according to a report by Truth in Accounting.
The analysis, conducted earlier this year, examined the financial condition of 75 cities across the U.S. based on budget figures from the 2021 fiscal year. Cities were ranked based on their "Taxpayer Burden" or "Taxpayer Surplus."
"A Taxpayer Burden is the amount of money each taxpayer would have to contribute if the city were to pay all of its debt accumulated to date. Conversely, a Taxpayer Surplus is the amount of money left over after all of a city's bills are paid, divided by the estimated number of taxpayers in the city," the report said.
The study ranked Dallas No.68 for its taxpayer burden, earning it the designation of a "Sinkhole City."
"Cities that lack the necessary funds to pay their bills are called Sinkhole Cities, while those that do have enough money are referred to as Sunshine Cities," the report explains. Fifty of the 75 cities landed in the "Sinkhole" category.
The bottom 10 Sinkhole Cities were New York City, Chicago, Honolulu, Portland, New Orleans, Philadelphia, St. Louis, Dallas, Pittsburgh, and Miami.
Dallas had a taxpayer burden of $14,700 per taxpaying resident.
"Dallas' elected officials have repeatedly made financial decisions that left the city with a debt burden of $5.9 billion," researchers wrote. "That burden came to $14,700 for every city taxpayer."
The analysis found the City's financial problems "stem mostly from underfunded retirement obligations that have accumulated over the years."
On the other hand, some cities managed to maintain a taxpayer surplus. For example, Washington D.C., the top "Sunshine City" in the study, had a surplus of $14,000 per taxpayer. San Franciso, Irvine, Los Angeles, and Fresno rounded out the top five "Sunshine Cities."
comments powered by Disqus