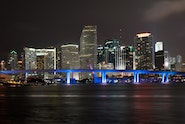 "(The Center Square) — Florida taxpayers are set to save millions of dollars after Gov. Ron DeSantis announced that some of the Sunshine State's debt had been paid down early.
A total of $400 million in state debt has been paid back through the Debt Reduction Program, designed to accelerate the payment of bonds before they mature and saving Florida taxpayers almost $34 million in interest.
The state still has, according to its most recent comprehensive financial report, nearly $25 billion in bond debt.
The non-partisan Truth in Accounting's annual Financial State of the States report says Florida has a total debt of $76 billion, with much of that coming from more than $49 billion of liabilities other than unfunded pension costs ($5.78 billion) or retiree health care costs ($10.47 billion). TIA ranked Florida 18th out of 50 states for its financial position..."
comments powered by Disqus