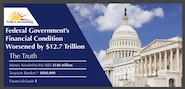 Our Financial State of the Union report found that the financial condition of the U.S. government worsened by more than $12.7 trillion in 2022.
The majority of the federal debt can be attributed to $64.31 trillion in Medicare promises and $47.74 trllion in Social Security. These are promises that have been made to our citizens, but the government has not set any money aside to fund them.
Unknown to most people, the federal government does not believe it owes any beneficiary any Social Security and Medicare benefits beyond the checks that are about to be written. That is why the Treasury Department only included $207.8 billion of Social Security and Medicare liabilities on the federal balance sheet. According to government documents, recipients do not have the right to any benefits beyond those currently due. Laws to reduce or stop future benefits can be passed at any time.
comments powered by Disqus