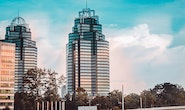 (The Center Square) — Local governments across Georgia are doling out federal COVID relief money to government employees as retention bonuses.
In March 2021, the U.S. Treasury Department said the federal dollars were primarily intended to help governments "continue to support the public health response and lay the foundation for a strong and equitable economic recovery." A subsequent Treasury Department rule expanded how governments could use the money, including giving "premium pay for essential workers."
In Atlanta, city leaders opted to give retention bonuses for uniformed police personnel and premium pay increases to other frontline workers. Separately, the Cobb County Board of Commissioners took a similar approach and approved a "frontline retention incentive program."
"Did the Treasury Department expand the use of the money beyond the intentions of Congress?" Sheila Weinberg, the founder & CEO of Truth in Accounting, told The Center Square. "One would question whether Atlanta and other cities are using the COVID relief money in ways that Congress did not intend."
The $1.9 trillion American Rescue included roughly $5 billion for Georgia's state government and $3.5 billion for local governments in The Peach State. Local governments are turning to the ARP's Coronavirus State and Local Fiscal Recovery Funds to fund the employee bonuses.
Atlanta received more than $170.9 million in SLFRF funds. Under the plan, uniformed personnel received total year compensation increases ranging from 5.9% to 10.25%, while captains, majors and chiefs received $1,000 retention bonuses.
Spokespeople for the city did not respond to requests from The Center Square for more information about the cost.
"These pay increases are in recognition of the enormous dedication our police officers, firefighters and other frontline workers have shown to Atlanta," Mayor Andre Dickens said in an announcement.
Meanwhile, the Cobb County Board of Commissioners approved a "frontline retention incentive program," funded by up to $636,000 in ARP funds. Cobb County received more than $147 million in SLFRF funding.
The county will give critical workers who started working with the county before April 1 a one-time payment of $1,500. Workers must return the bonus if they do not stay an entire year.
"The most worrisome aspect of the federal government 'rescuing' the cities, like Atlanta, is that these governments may now believe that if future crises happen, as they do every seven to ten years, they can count on the federal government to give them money," Weinberg said. "The city government officials might count on the federal taxpayers to give them money instead of planning for future crises themselves."
comments powered by Disqus