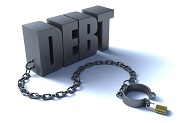 "A new report is highly critical of how Chicago and other large cities present their financial reports.
Truth in Accounting says to truly understand a city's financial condition, taxpayers have to play an impossible game of hide and seek. The government watchdog's analysis of the 10 most populous U.S. cities included underlying government units for which city taxpayers are responsible for, such as schools and transit, details Chicago leaves out of its financial report.
When the unfunded debt of these underlying government units is combined with the county, municipal and state debt, city taxpayers are on the hook for much more than they think.
"In New York City, each taxpayer is burdened in that city $91,500, where Chicago is actually $135,700," Truth in Accounting CEO Sheila Weinberg said.
Collectively, taxpayers in these 10 cities face an average combined per-taxpayer burden of more than $49,400, including county, state, and "off balance-sheet" underlying government entities. This compares to an average per-taxpayer burden of $19,900 for their city governments alone.
Patrick Tuohey, policy director with the nonprofit Better Cities Project, said Chicago leaders should be more transparent with their finances.
"A culture of openness starts from the top, and it says in order to provide the best service to the people we work with, our assumption should be that everything is open and all of these meetings are public," Tuohey said.
Some of the underlying government units taxpayers are responsible for in addition to schools are the Chicago Park District, Chicago Housing Authority, and the Metropolitan Water Reclamation District of Greater Chicago.
Of the ten cities examined, Phoenix, Arizona, had the lowest taxpayer burden at $11,200, followed by San Antonio, Texas, at $19,400, and Dallas, Texas, at $26,000."
comments powered by Disqus