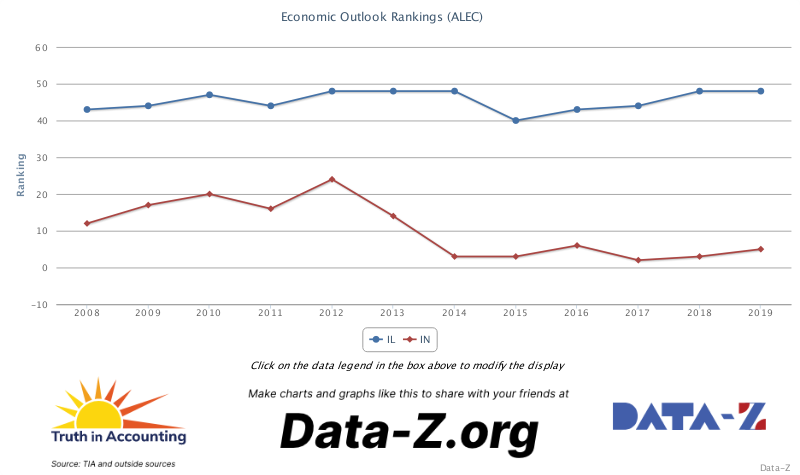 The American Legislative Exchange Council (ALEC) is out with its latest annual "Rich States, Poor States" report. This report analyzes all 50 states using 15 policy variables for regulation, labor relations, taxes and government spending. It computes an "Economic Outlook Ranking" for the states reflecting ALEC's preferences for lower taxes, lower spending, lower regulation and reduced union power in labor markets. That's their "bias," but the proof does appear to be in the pudding when looking at migration trends across the 50 states in the last decade.
Here's one isolated comparison between Illinois and Indiana. Since 2008, Illinois has consistently ranked in the bottom 10 states on ALEC's Economic Outlook Ranking, and its ranking has deteriorated in the last five years. Indiana, on the other hand, has been in the top 10 on their rankings in the last five years and showed significant improvement since 2008.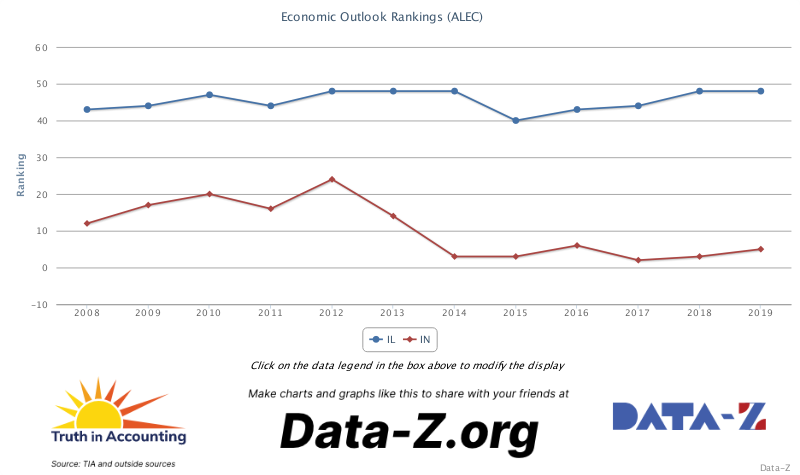 Over the last decade, Illinois and Indiana have been like night (Illinois) and day (Indiana) on migration trends. For example, here's a chart (also from Truth in Accounting's Data-Z website) showing the share of outbound shipments in total interstate moving shipments as reported by United Van Lines, one of the largest moving companies in the United States.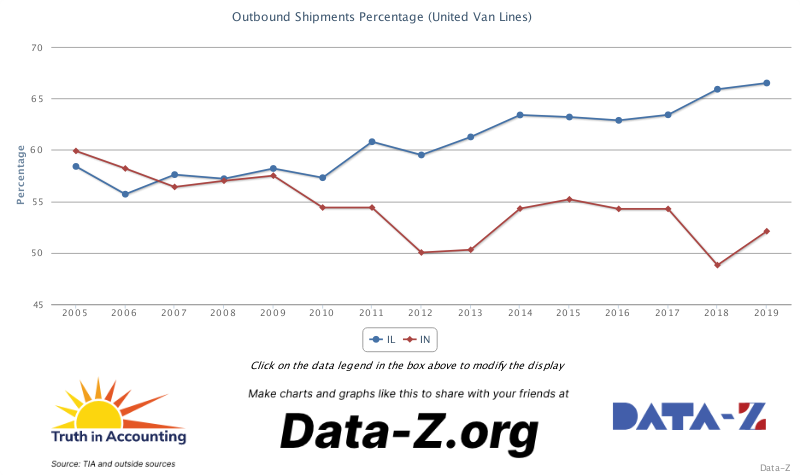 Illinois and New Jersey have ranked last and second-to-last, respectively, on the United Van Lines migration results in recent years. They also rank second-to-last and last, respectively, on Truth in Accounting's "Taxpayer Burden" measure of state government financial condition, and they were both in the bottom five states on ALEC's latest Economic Outlook Rankings.
Since 2011, Illinois, New Jersey and New York have all been ranked in the bottom five states on outbound moves (most outbound migration) in the United Van Lines results.
comments powered by Disqus