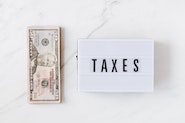 "A new report from the Illinois Commission on Government Forecasting Accountability shows a dramatic increase of overall taxpayer spending over the past six years.
COGFA's report on fiscal year 2024 released Monday reviews the annual budget that began July 1. The report details the budget process and how much each state agency and program is set to receive in annual appropriations.
While a lot of reporting focuses on the state spending of $50.4 billion in Illinois General Revenue Funds, overall taxpayer spending is much higher at more than $193.5 billion when taking into account federal and special funds. That's up from the $99 billion in total spending for fiscal year 2018, or a 95.3% increase.
Truth in Accouting's Sheila Weinberg said there was a 7% increase from 2018 to 2019.
"Then COVID happened and then the floodgates just opened. The federal government threw money at everything. The states threw money at everything," Weinberg told WMAY. "So between 2019 and 2020, the annual appropriations increased by a whopping 35%."
From 2020 to 2021, spending increased 19%. The following year, spending went up 8% and from 2023 to 2024, spending increased around 3%.
Weinberg said with the COVID-emergency over, one would think the elevated spending would decrease, but that does not appear to be the case.
The reported annual budget of $50.4 billion in state funds isn't transparent, she said.
"So this, quote, budget that they're talking about that they, quote, balanced is only 26% of the overall appropriations," Weinberg said..."
comments powered by Disqus