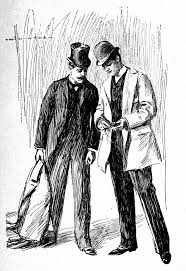 Sir Arthur Conan Doyle wrote over 50 short stories featuring fictional detective Sherlock Holmes. In one of them, "The Adventure of Silver Blaze," Holmes solves a crime involving the theft of a prize racehorse, after noting that a dog stationed near the horse didn't bark during the time at issue.
Yesterday, the City of Chicago issued a press release along with its new "Annual Financial Analysis." The report received fairly widespread coverage in the mainstream media, with a common theme echoing the press release's emphasis along the lines that "Projected 2018 Operating Budget Shortfall is 82 Percent Reduction from 2011." For example, Crain's Chicago Business featured an article by Greg Hinz headlined "City projects lowest deficit in a decade."
That "projects" word is pretty important, however.
How can the city project the lowest deficit in a decade, and at the same time, annually state that it produces a balanced budget as required by state law?
The dog that didn't bark is the dog that didn't issue a press release about a more important annual financial analysis that arrived a few weeks ago – the Comprehensive Annual Financial Report. This report is prepared and issued by the city, and includes financial statements audited by an accounting firm.
There are words, and there are deeds. Budgets are projections, statements of intent. The CAFR has results.
In contrast to the budget reporting, the audited financial report shows marked deterioration in city financials over the last decade. And the City of Chicago has incurred expenses above and beyond revenues to the tune of a billion dollars a year or more every year since 2011, in a period when the city trumpeted an 80% decline in its "projected budget shortfall."
The City of Chicago has issued 22 press releases since the July 12 'publication' of its CAFR. In addition to yesterday's press release announcing the "82%" decline in projected budget shortfall, those 22 press releases included the likes of "Mayor Emanuel Cuts Ribbon on Western/Belmont Improvement Project" and "Statement on President Trump's Ban on Transgender People from Military Service."
But none of those 22 press releases referenced the latest Comprehensive Annual Financial Report for 2016. Maybe in part because the news was so bad, and/or late. The report was released 12 days after it was legally required to be produced.
For that matter, the city press releases do not mention the annual financial report at all going back to June 30.
comments powered by Disqus