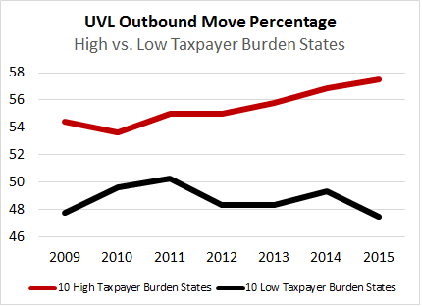 United Van Lines (UVL) is one of the largest home moving companies in the U.S. Every year since 1978, they have released a study of the share of outbound shipments in total shipments for all 48 continental United States. The latest results came out a week ago, and they are dismal for Illinois and other fiscally-challenged states.
The first chart below, drawn with Truth in Accounting's Data-Z charting tool, shows the outbound migration percentage for Illinois. The state has never posted a year below 50 percent (net inmigration), and the net outmigration has accelerated significantly in the last decade.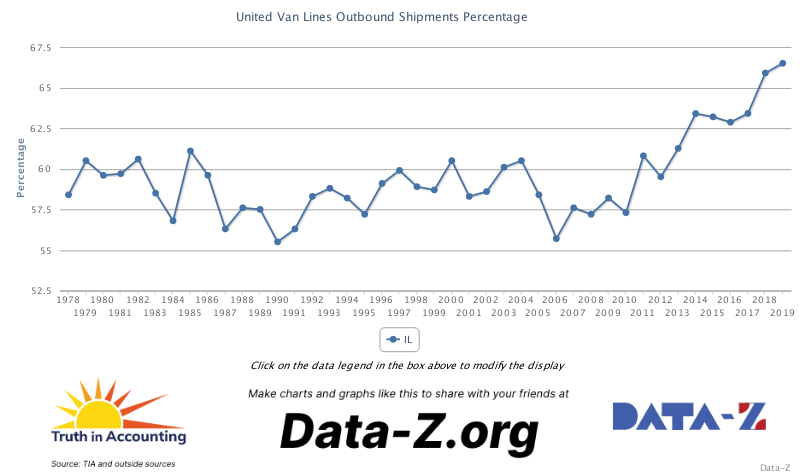 In 2019, Illinois came in second-to-last on outbound migration, trailing only New Jersey.
Here's a look at the rankings for Illinois and its neighboring states last year. Illinois is that that little red bar to the left, ranking 2nd (only losing out to New Jersey) in outmigration.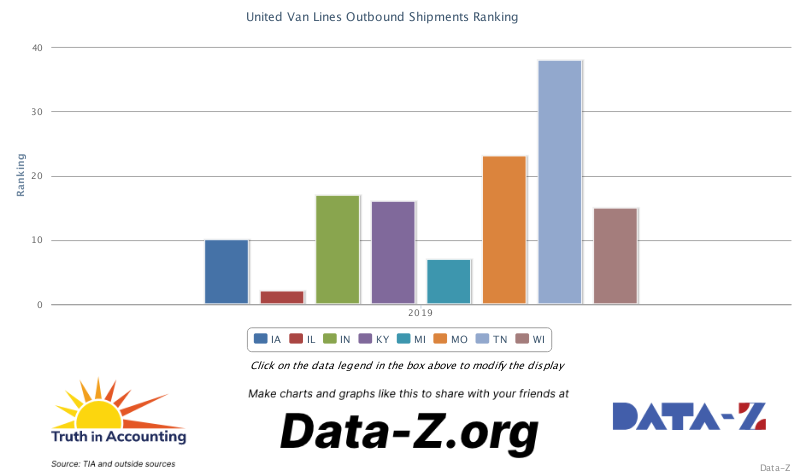 Last year, the five states with the best rankings (least net outmigration) on the UVL study were Idaho, Oregon, Arizona, South Carolina, and Washington. The five lowest-ranking states were New Jersey, Illinois, New York, Connecticut, and Kansas. The five lowest-ranking states had an average TIA Taxpayer Burden of almost $40,000 in the latest reporting year, compared to just $4,000 for the five highest-ranking states.
Migration trends have significant relationships with economic growth and property values. One could argue that any measure of taxpayer burden should also consider the income and wealth effects in fiscally mismanaged states.
The chart below updates the chart introducing this article at the top upper-right. It compares the average outbound shipment percentage for the 10 states with the highest (worst) TIA Taxpayer Burdens to the 10 states with the lowest (best) Taxpayer Burden rankings. The migration gap between these two groups continued to widen in 2019, as it has over the past decade.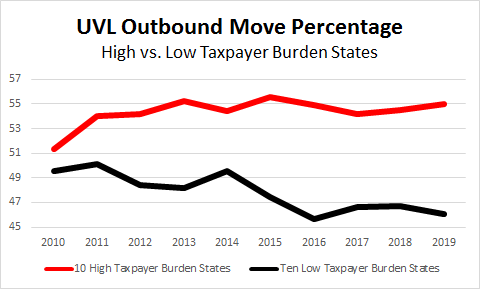 comments powered by Disqus