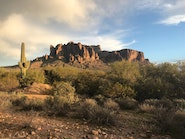 "Phoenix was near the bottom of a new ranking of the financial state of American cities.
The group Truth in Accounting looked at the 75 most populous cities, and found 63 of them did not have enough money to pay their bills, Phoenix among them. Sheila Weinberg, founder and CEO of Truth in Accounting, joined The Show to talk about it.
The Show reached out to the city of Phoenix. A spokesperson sent a statement:
The city of Phoenix does not agree with, or consider valid, the analysis performed by Truth in Accounting. The method used in reporting this information ignores the long-term planning involved in Phoenix's annual budgeting to meet all its financial obligations, including debt payments.
The premise of this analysis by TIA is a city must have enough cash today to pay all future liabilities, both short- and long-term. This is not how debt and liabilities work in the real world. For example, if you had a house mortgage of $250,000, the TIA methodology says you must have $250,000 in a checking account today to pay that bill. No city debt obligations are handled this way. Pension liabilities, for example, only become due as each employee retires. The entire city workforce will not retire on one given date, requiring the full amount due, and we plan accordingly.
Because of this, pension payments, which on our current plan occur over a 22-year period, are like a mortgage payment. Just like a mortgage, the cost is not paid in full up front, but is spread over many years to be manageable. State law allows the city to do this, and we have always paid 100 percent of the required contribution, which is also required by state law. Like a mortgage in a household budget, these pension payments are part of the city's annual budget, and are monitored by our Finance Department staff.
Moreover, this report treats all debt the same, and includes nothing about how entities profiled are prudently managing their debt obligations. Phoenix has, through referendum and administrative action, already implemented pension reforms which have improved the city's ability to meet its obligations, and will continue to look for further reforms. Additionally, the study compares all cities and does not account for the fact the city of Phoenix includes capital intensive business funds including water, wastewater and aviation, which provide benefits to the entire region.
This sound financial stewardship has increased the city of Phoenix's net position from $5.2 billion to $5.7 billion as of the latest reporting in the city's Comprehensive Annual Financial Statements in 2019. Further, excise and other tax revenues have increased by $96.1 million or 8.2% compared to the fiscal year ending 2018. This, and the city's strong economy have led rating agencies to rank Phoenix's credit worthiness highest of large cities in the United States, including an Aa1 rating from Moody's, an AA+ from S&P, and a AAA from Fitch."
comments powered by Disqus