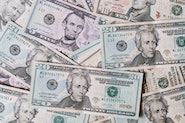 "More than two-thirds of U.S. states do not have enough cash to pay their bills, and all 50 states hold a collective $1.2 trillion in debt, according to a concerning report from Truth in Accounting, an organization that seeks to educate people with transparent government financial information.
The Financial State of the States report for 2022 reports on financial conditions in each state. Their report found that while 49 of the 50 states have balanced budget clauses in their laws, many states skirt those provisions because they have "not included the true costs of the government in their budget calculations."
Of the 31 states that don't have enough cash to pay their bills, New Jersey, Connecticut, Illinois, Hawaii, and Massachusetts are the top five worst off. This calculation is based on the taxpayer burden, the result of dividing the total amount needed to pay a state's bills by the total number of people in that state. New Jersey has the highest taxpayer burden in the country, at $62,50 per taxpayer. Connecticut and Illinois are not far behind, at $58,300 and $57,000, respectively.
The number of states that can't pay their bills has actually gone down in recent years, from 40 states in 2018 down to 31 now. Total debt, on the other hand, has increased 26% since 2020 to $1.2 trillion.
These deficits are largely driven by unfunded retirement liabilities. States shortchange retirement liabilities to use that cash to "balance their budget," a practice that according to Sheila Weinberg, CEO of Truth in Accounting, "has resulted in a $699 billion shortfall in pension funds and a $665 billion shortfall in [other post-employment benefits] funds."
As the cost of borrowing increases in a higher interest rate environment, states need to get a handle on spending and balance their budgets before it's too late."
comments powered by Disqus