Awash in liquidity, at least for now, the City of Chicago is setting sail for a historic spending spree. In late October, the City Council passed Mayor Lori Lightfoot's latest annual budget. The city is planning to spend $16.7 billion in 2022 – 40 percent more than the city's budget just two years ago.
In late 2019, anyone predicting the financially-desperate City of Chicago would be planning to spend 40 percent more money in two years might have drawn a few laughs. Yet here we are – after a worldwide pandemic and government lockdowns brought federal money raining down on more than a few financially challenged state and city governments.
In the letter introducing her "2022 Budget Overview", Lightfoot framed the planned spending in terms of a goal to "build a stronger and more prosperous city," and declared "We are the City of Big Shoulders." But Uncle Sam's shoulders are a big part of the story. Whether Uncle Sam can carry the load it has undertaken will be an important theme to watch in the years ahead.
The City of Chicago included $6 billion in grant funding – mainly federal government spending – in its anticipated resources for the 2022 budget. That's 36 percent of the $16.7 billion. Here's a look at what the city has budgeted for grant funding each year since 2015.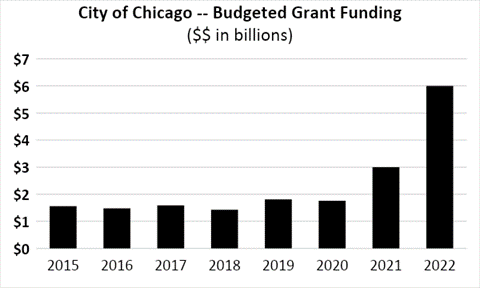 Grant funding hasn't been the only thing ballooning in Chicago's finances in recent years. Here's a look at the amounts the city has budgeted for pension fund contributions since 2011.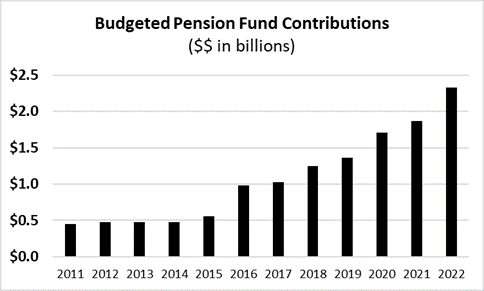 In 2022, Chicago plans to sock away nearly $2.5 billion for its employee pension plans – four times as much as it was contributing back in 2015. Announcing the latest budget, Lightfoot claimed that
"In 2022, with the Budget we are proposing, we will climb our pension ramp, which means that for the first time in our city's history, and [sic] all four pension funds will be paid on an actuarially determined basis. This is huge."
Even if true, it wouldn't be so huge. It would only imply that Chicago stopped digging its massive long-term financial hole deeper. Trouble is, as Elizabeth Bauer documented in Forbes back in October, Chicago's "actuarially determined basis" is based on legislative accounting, not the full Actuarially Determined Contribution required to keep the pension liability from growing.
Still, the City of Chicago plans to come up with almost $500 million more in pension contributions next year. One has to wonder how easy that would have been absent the pandemic and related federal government "stimulus."
In its latest (2020) audited financial statements, the City of Chicago reported an unrestricted net position (akin to shareholders equity, in private sector corporate financial statements) of ($37.4 billion). The dollar amount is in parentheses because it is a negative number. The $37.4 billion 2020 hole was almost $8.5 billion deeper than in 2015.
When you are this deep into a hole, how do you justify a budget 40 percent higher than it was before the arrival of a worldwide pandemic? Besides praising the leadership of the Biden administration and the fiscal response of the federal government to the pandemic, Lightfoot doubled down on a longstanding tendency of city leaders to call spending "investment."
In a late-September press release announcing the latest budget proposal, the Mayor's press office included the word "invest" 60 times. The word arrived 25 times in the text of the 2-page release, and another 35 times in a series of 36 statements from various leaders of organizations supporting the budget. One paragraph in that press release captures the essence of the messaging:
"Importantly, the 2022 Recovery Budget includes investments that build a better Chicago by increasing safety and opportunities. To make those conditions a reality, the investment strategy is driven by two key principles: investment in families and neighborhoods will increase community safety; and investment in Chicago's economic engine will support an equitable recovery."
Maybe that's one way to try to sell this bill of goods. Investments provide a return, hopefully, a positive one. While that may be uncertain, certainly from the point of view of the city as a whole, the recipients of the spending will certainly be getting some money. From the city government and taxpayer perspectives, however, the programs established under new 2022 spending may launch expectations for continued spending in those areas. That sounds more like a liability, not an investment "asset."
Federal aid may seem like a reliable thing to depend on. But as our financial markets regularly and sadly remind us, federal government "stabilization" programs can fundamentally undermine true stability, given the moral hazard implications. Bailouts and bailout expectations spawn riskier behavior, especially if concentrated, well-organized special interest groups benefit while average citizens and taxpayers bear downside risks.
Chicago's aggressive growth plans for 2022 may set the stage for a more violent unwinding if federal largesse does not continue. Especially if the federal government victimizes its own finances with its current largesse.
I'm a fan of metaphors. I hope the City of Chicago hasn't set sail into a perfect storm. For that matter, having done that on a small boat, I hope it has.
comments powered by Disqus