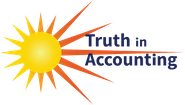 As my Facebook friends know, I post my "good news of the day." With the focus of my work being government budgeting and accounting—where the federal debt is now more than $100 trillion and states' debt more than $1.5 trillion—you would think there isn't much good news to report. But I believe everyone can find something good in all situations.
The federal debt may be growing at a faster rate, but more people are aware of it and more people are seeing our debt clock that's spinning on www.truthinaccounting.org.
Our Financial State of the States report revealed that state unfunded debt increased to more than $1.5 trillion, but the good news is that after decades of state and local governments hiding their pension debt off of their balance sheets, our hard work resulted in a requirement that most of this debt is now reported. Even better news is next year the governments will be required to report their unfunded retirees' health care debt. I am so thankful for all of the hard work my data team headed by Shawn Cruce, our Data Research Manager.
Further good news came as a result of the hard work of our communications team, including Kevin Hoffman, our Communications Director, and our public relations firm, kglobal. The media coverage of our work appeared all over the country, and more people were reach through larger media outlets. We were pleasantly surprised by the extensive media coverage of our new state Financial Transparency Score report.
We were fortunate to have some wonderful events this year, including co-sponsoring the Colorado state treasurer's debate at Daniels School of Accountancy at the University of Denver, our annual event with DePaul University's Keeley Center for Financial Services featured our friend and municipal finance expert Jim Spiotto, and numerous speaking engagements from the suburbs of Chicago to Indianapolis.
Due to the hard work of TIA Project Director Karen Danford, our State Data Lab website is more organized and receiving more views than ever. The good news is that more people can create their own charts, using more than 400 data points, to compare their state and city to others.
The work of Courtney Fox, our marketing manager, and her team has resulted in tremendous social media coverage. More good news about our team comes from our Director of Research Bill Bergman, who compiles our daily Morning Call newsletter, and his weekly blog posts. Both publications' views continue to increase and has resulted in additional media coverage.
All of this good news is brought to you by Joan Colmar, president of TIA, who heads our fundraising and manages our office and team. Besides her diligence, she is forward-thinking and creative. Because of her focus we are now part of efforts to make state and local government financial reports more readable. This will enable our researchers and everyone to be able to analyze financial report data without having to type it into their analytical tools. The growth of Truth in Accounting is due to Joan's ability to raise the money needed for operations and research.
Of course none of this good news would be possible without the generosity of our donors, especially our board members. I know next year will bring even more good news news for Truth in Accounting as we work to educate fellow citizens about their governments' finances. I hope that the coming year brings you good news. Happy New Year.
comments powered by Disqus