An article in Barron's yesterday was titled "Is Your State in Financial Trouble? Here's how all 50 stack up." It included an analysis of states' creditworthiness by the asset management company Eaton Vance. A table in the article included at least one noteworthy data point – the spread on state bond yields over a municipal bond AAA benchmark yield.
Here's a look at those spreads for all 50 states. The higher the spread, the higher the market perceives the credit risk. Illinois, an "extreme outlier," is over there at the far right, at more than 200 points over the benchmark – three times as large a spread as New Jersey and Kentucky, the states with the second and third highest spreads, respectively.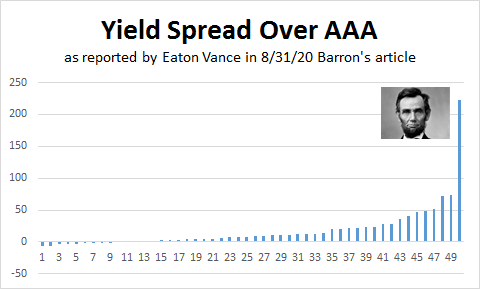 In a new analysis by Wirepoints, Illinois was called an "extreme outlier" in part because its credit rating had fallen to "one notch above junk, with a negative outlook." Have the credit rating "agencies" been overly charitable, as in the (recent) past? How did the Federal Reserve deem Illinois an "eligible issuer" for its new Municipal Liquidity Facility, even as federal law and regulation deny Fed emergency lending to "insolvent" borrowers?
comments powered by Disqus