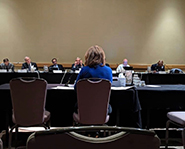 Last week, I testified before the Governmental Accounting Standards Board (GASB) on the Financial Reporting Model project. I urged them to require state and local governments to use full accrual calculations and techniques (FACT) based accounting. FACT-based accounting would require pension expenses and liabilities to be reported on the general fund balance sheets and income statements as they are earned and incurred. Such reporting is important because governments budget based upon the activities of the general fund. You can listen to my testimony here, beginning at the 33:03 minute-mark.
At Truth in Accounting, we are grateful to all of the groups and individuals who submitted comment letters supporting our efforts. Historically, GASB has received very little input from citizens and taxpayers. Most comment letters come from government officials and others who have a vested interest in maintaining the status quo. For this project, more than a third of the letters received were from taxpayers. I cannot thank those concerned citizens enough for taking the time to provide GASB with your perspective, but our work is not over.
We were disheartened to see GASB group the letters from taxpayers, which seemed to diminish the impact of their voices. We also found that GASB staff did not post those letters promptly on the website, but rather, did so only after receiving repeated reminders. Days after the submission deadline for letters, and several weeks after these letters had been submitted, more than 20 taxpayer-letters from were still missing from the site. Most letters from government organizations, however, seem to be posted within a day or two after submission.
The comment letters received from government officials shared the same message of continuing with the current short-term perspective of reporting, but they were not grouped together. Why were the letters from taxpayers grouped together, in essence diluting their message, while the letters that GASB sought out were treated individually?
From the beginning of this project, GASB has skewed their fact-finding and information gathering toward government officials, especially those who prepare and audit government financial reports. GASB staff attended numerous governmental conferences, asking for input and comment letters, and presenting their point of view that governments should continue to report the general fund using a short-term perspective. These conferences included those held by the Association of Government Accountants, the Government Financial Officers Associations, the National Association of State Comptrollers and various CPA societies throughout the country. Last year, GASB staff members presented at the Illinois CPA Society government conference. When I asked to present our point of view at this conference, I was told that the GASB staff had said they alone were going to present. I have also never heard of GASB attending an event for citizens or citizen groups, even though they are listed as "primary users of the information that results from GASB standards."
The GASB's public hearings, where those who had written comment letters could voice their concerns, were also held in conjunction with annual conferences of the Government Financial Officers Associations and the National Association of State Comptrollers.
The GASB was established as an independent board whose mission is to "educate stakeholders on how to most effectively understand and implement [accounting] standards." Citizens and taxpayers are the greatest stakeholders in a government's financial reports. So why is the GASB seemingly on the side of government officials?
comments powered by Disqus