Liz Farmer recently wrote an article for Rate.com titled "Little-noticed home buying risk: Your city's financial problems." It was picked up by the Chicago Tribune, among other places. She argued that "While the traditional home buying process is full of due diligence title searches to make sure you'll actually own what you're paying for, appraisals to make sure you're not overpaying it lacks any warnings about civic finances. Take Chicago…"
From there, Farmer cited Truth in Accounting's calculation of the combined Taxpayer Burden facing taxpayers in the City of Chicago, which ranks the worst among the 10 most populated cities in the country on this measure.
Looking across the 48 continental United States, what do you think has happened to home prices, when comparing the five best-ranking states ("Sunshine States") on Truth in Accounting's Taxpayer Burden to the five worst-ranking states ("Sinkhole States")?
Here's a look at the average FHFA Home Price Index for those two groups since 2003, indexed to the housing market peak in 2007: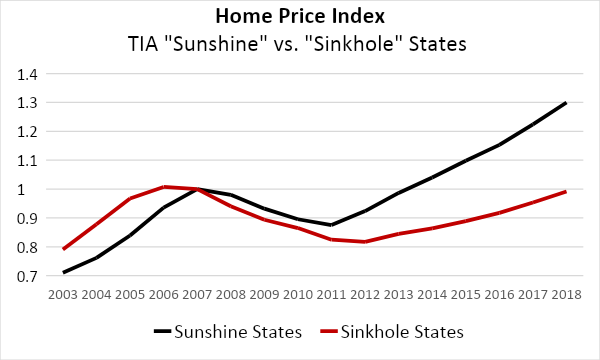 The "Sunshine States" (North Dakota, Wyoming, Utah, Idaho and Tennessee) have had a robust recovery, while the "Sinkhole States" (Delaware, Massachusetts, Connecticut, Illinois, and New Jersey) are barely back to 2007 levels.
At least through 2018. We will see if the recovery in the Sinkhole States continues.
comments powered by Disqus