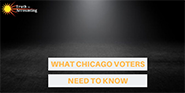 Chicago's inherited debt problem has wounded the city in recent years; our elected officials have financially "kicked the can" down the road for so long that this election could result in the popping of a fragile fiscal bubble. A local Chicago think tank, Truth in Accounting, has a few financial insights that may help you understand what the city needs as you decide which mayoral candidate to vote for this Tuesday, Feb. 26.
1. Chicago is drowning in pension obligations.
According to the Chicago-based government watchdog group, Truth in Accounting, Chicago ranked 74th out of the 75 most populated cities in fiscal health. Chicago is $32.5 billion in debt, averaging about $35,000 per taxpayer. A great chunk of this debt comes from unfunded pensions obligations, an issue the city government has ultimately been unsuccessful in solving. For example, the Public School Teachers' Pension and Retirement Fund of Chicago is promised $23.2 billion, yet have $12.4 billion in unfunded benefits, resulting in the fund only being 47% funded. This percentage is about average - the pension fund for municipal employees is only 28% funded, 23% for the police, and disappointingly, the Firemen's Annuity and Benefit Fund of Chicago is at a dismal 20%. Pensions are promised to hardworking Chicagoans, but because of a mountain of government mismanagement, taxpayers are expected to take on this burden. In a questionnaire with WBEZ 91.5 Chicago, candidates Bill Daley, Bob Fioretti, and John Kozlar were the only candidates who said they are considering cutting pension benefits to make a dent in obligations.
2. CPS is neck-deep in debt despite recent reports.
The main issue being discussed in the 2019 Chicago mayoral race is an elected school board vs. an appointed one, with the issue of CPS debt flying under the radar in these debates. While the Chicago Sun-Times reported a $324 million surplus, according to the Director of Research with Truth in Accounting, Bill Bergman, this information is deceptive. Bergman writes that "government officials long have anchored their communications to the public using unreliable and deceptive cash-based accounting results. Longer story short, one way to improve your 'cash' position (and general operating fund balance), in the short-run, anyway, is to run up your credit card." While he concedes that CPS finances improved somewhat, still needing $14.8 billion to pay its bills is by no means impressive.
3. FACT-based accounting could be what we need for financial transparency.
It's pretty much a given that in our divided political system, taxpayers and citizens are having a difficult time trusting their governments, and Chicago is no exception. A 2015 Gallup poll even found that Illinois residents have the lowest amount of trust for their government, and our questionable accounting standards may be one reason to blame. Politicians often fudge or use misleading math as "evidence" that their city's financial situation is improving, even if it isn't telling the whole story. Truth in Accounting reports that "The vast majority of state and local governments require their budgets to be balanced, yet most of these government entities continue to face huge shortfalls thanks to unfunded pension and retiree health care promises and short-sighted accounting tricks that are used to make budgets appear balanced."
FACT-based accounting stands for "full accrual calculations and techniques," a type of accounting that requires financial reports to include the accumulation of all debt. Truth in Accounting is calling for this type of accounting to be implemented in order to empower citizens with more transparent government information. Without comprehensive financial information, Chicago citizens cannot fully grasp the weight of the city's fiscal condition. And without this understanding, future taxpayers will be continue to be burdened with enormous debt for years to come.
Josh Shaffer is an undergraduate student at Loyola University Chicago and is the Social Media and Digital Marketing Intern at Truth in Accounting, a nonprofit organization based in Chicago that promotes transparency for a better-informed community.
comments powered by Disqus