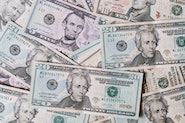 "Have you ever wondered, "What if my state suddenly imploded because of how much debt it has?" No? Are you sure? You're not constantly considering if your state has the worst state finances?
Well, that's okay.
You're here now.
You're safe.
You're about to be serenaded with the exact information you never wondered in your life but now desperately must know – what is the state of my state's finances? Is it the worst in the Union? How's my state's budget? Is it balanced? (Spoiler alert: it's not) Did you know that state budgets can affect you personally? (Yes you, reading this in Kansas).
But lucky you in Kansas, you are not among those states who would affect their population the worst, because the ranking below works like so: take the total debts (or surplus) or money and monetary assets a state has at the end of its fiscal year and subtract what it was obligated to pay out. Then you divide that total debt obligation by the population of that state. So what you get is the average amount a taxpayer of the state they reside in would have to pay to help keep their state out of debt for that year.
This list focuses on those states in lots of debt, and continue to be in debt as they did not have enough money to meet their debts for the year. If they had strong-armed their population to pay up to meet their obligations, then each taxpayer would have to pay quite a large amount per person. This list is thus ranked by whatever random taxpayers in the states below would have had to pay in taxes to help balance their state's budgets.
10 New York
New York. New Yooooooork! Land of the city of so much steel and concrete and traffic that it sickens someone like me who's interested in steel and concrete and traffic. From New York City to Niagara Falls to the Finger Lakes – New York does have a lot to offer those who live there. But among the natural beauty or concrete jungles, it also offers to be in debt!
If you are at all interested in finances and the finances of states, I do not think this one would come as a surprise to you (number 9 won't either).
New York had a total debt of $285 billion (285,000,000,000) that it needed to pay its bills for 2021. It had an asset amount of $152.3 billion to pay said bills for the year.
As you can see, this means the state had an overdue fee of $132.7 billion, primarily stemming from unfunded retirement obligations. Spread over the population of approximately 20 million. This results in a financial burden of $20,100 per person and grants New York a wonderful "F" grade from Truth in Accounting.
9 California
Bear Flag State. Los Angeles. San Diego. San Francisco's poverty wages are $100k a year. Death Valley. Yosemite. California has a lot.
Lots of people. Lots of places. Lots of debt.
Even if you try to avoid it, just like New York, you probably hear more than you would like about California.
But what are the facts? Does California have the worst state finances?
California had $134.9 billion available to pay for $399.4 billion of debts! Interestingly enough, that's less money than New York had on hand for a lot more obligations. The result is that California needed $264.5 billion to pay its debts. If that was spread across its gigantic population of 39.5 million it would result in each taxpayer forking over $21,100 of taxes for the year! As you will see throughout the rest of the list, California also has an "F" Grade from Truth in Accounting.
8 Vermont
Whether you are keeping it weird in Burlington or searching for Champ in Lake Champlain, Vermont has a lull to it that brings in many people. Vermont and New Hampshire are the most likely places I hear in passing of people buying a nice little cabin in the woods out in the boonies. It's got nature, it's slightly French in aesthetique and would it surprise you that it's slightly indebted?
Vermont had $5.4 billion available to pay its dues of approximately $11 billion. This left the state needing about $5.7 billion to pay its bills for the year. Which, at a glance, doesn't look so bad. That means the State of Vermont is only about halfway behind on its bills. Much better than being three-quarters behind, like California.
However, the reason Vermont falls at a worse rank than California is due to its higher cost of balancing its budget per taxpayer at an amount of $24,700. That's $3,600 more than the average in California. And this debt is mostly due to underfunded pensions and retiree health care promises that have not been quite balanced.
7 Kentucky
The first thing that comes to mind is fried chicken. And I'm not sorry about that. I find Kentucky often overshadowed by Tennessee and if you asked me on the spot for a city in Kentucky, I will stumble to come up with an answer. I'm stumbling right now. And to make poor Kentucky's situation worse, they're in dire financial straits that are worse than California and New York?
Well, let's dig in and see what's going on in the Bluegrass State. (What is Bluegrass, anyway?)
Similar to our other contenders for worst state finances, Kentucky has underfunded its pension and retiree health care promises for years. It also has done so at a worse rate than Vermont, which had put away 56 cents per every dollar for such concerns. Meanwhile, Kentucky has only put away 46 cents per every dollar for pension and health care promises.
The big stats are as follows: Kentucky had $14 billion to pay its bills of $46 billion. That means Kentucky missed $32.1 billion. That's a ratio of $3 in bills to $1 to pay for it. Which is almost as bad as California's about $4 in bills with $1 to pay for it. This results in a taxpayer needing to pay an extra $26,000 to balance the state's budget. And perhaps most interestingly, Truth in Accounting notes that the taxpayer paying said taxes now or in the immediate future is paying for items which "they would receive no related services or benefits".
6 Delaware
It's kind of crazy. If I was a couple of billion dollars short of paying rent, I'm pretty sure I'd be evicted. But we don't evict states here. But what does that have to do with Delaware? Well the only interesting fact I know about Delaware is that it was the first state to join the Union! Hooray for being first! And hooray for not being the worst indebted state!
So, what kind of financial landscape does Delaware offer its residents?
You already know the answer, but what about specifics? In the 2021 Truth in Accounting Report, Delaware received an "F" grade due to its taxpayer burden of $31,300. That's a jump of $5,300 per taxpayer from Kentucky above. Delaware had $4.9 billion available to pay $15.3 billion in debts. The result is a shortfall of $10.4 billion for the First State.
5 Hawaii
The most unique state in all of the Union is not unique in its debts, unfortunately. While the landscape is beautiful and the natural beauty is something to be mesmerized by – the state's finances are not. It reminds me of a quote I hear occasionally "You cannot eat the view."
Hawaii has also not been funding its promised pension benefits and retiree health care benefits for several years now. And to make matters worse for the state, perhaps the state most emblazoned around tourism, its financial condition worsened by 11 percent during the pandemic. And we all know how unfortunately crippling the pandemic was in general, only to be a force multiplier to the tourism industry in a state which thrives on it.
For 2021, Hawaii had $6.5 billion to pay its bills of $24.5 billion. That doesn't even look good to read. Even on a list of the worst state finances. Due to this, Hawaii was short $18 billion with an "F" grade once again. The final result of all this is a taxpayer burden of $37,000.
4 Massachusetts
Massachusetts often strikes me as a tertiary member of the states that pop up the most in news headlines along with New York and California. This is more due to Boston and its heritage and all the history in and throughout the state. And I will say – I love Boston and that city appears to be a booming hub of an economy. It even ties into nearby Cambridge as two powerful college towns and bustling cities as part of a whole state of wealth.
Yet here it is, all the way down in the 4th place. What went wrong Massachusetts? Well, just like about every other state on this list, Massachusetts had underfunded pensions and retiree health care benefits. And also like about every other state on this list, it has gone on for years, now.
The big numbers are as follows: Massachusetts had $28.3 billion accessible to pay for $126.9 billion worth of bills. That's an impressively inconsiderate $5 of bills per $1 of assets available. Worse than any other state thus far. These debts result in a taxpayer burden of $38,100.
3 Illinois
It still surprises me that the S in Illinois makes no noise. It does not surprise me that they are on this list and it equally does not surprise me that they are this low on the list. The land of Lincoln likes to silently move into a worse financial position like a glacier, steadily and quietly.
For the year 2021, Illinois had also underfunded its pension funds and retiree health care funds. And once again, it's been like this for years. Illinois only had $36.2 billion available for a total tab of $272.2 billion. I cannot even comprehend how they made the ratio this horrible at $7.5 of bills to $1 of assets. This results in a taxpayer burden of $57,000. That's a decent salary.
2 New Jersey
My home state! The Garden State! Pork roll (NOT Taylor ham), beaches, the Pinelands, and very silly geese underfunding the pension system for years now!
In 2020, we finally were first at something by being dead last in the Union when it came down to the fiscal health of the Garden State. And I was honestly not surprised at all. But now it's second to last and we are moving up in the world!
In 2021, New Jersey had $31.7 billion available to pay for $216.9 billion of bills. This resulted in a shortfall of $185.2 billion or $58,300 per taxpayer. And yet again, these debts are mostly due to underfunded pension promises and retiree health promises. And it sure wasn't spent on infrastructure.
1 Connecticut
Congrats to Connecticut for being the worst state budgeted state in the Union! I usually joke that this state is just a highway, so I don't know where all these people came from to tank their budget. But alas it does not matter since New Jersey is not last!
In 2021, Connecticut threw $16.8 billion at a total bill of $96.3 billion. As you can assume, this is not very good and the state's financial condition worsened by 18% since the pandemic. The total taxpayer burden per person is $62,500, the absolute worst in the union when it comes to state finances.
Sources:
https://www.truthinaccounting.org/news/detail/financial-state-of-the-states-2021"
comments powered by Disqus